Publications
Over the last months, the project fellows have worked on vision papers imagining how a truly European public sphere could look like in the year 2025 – focusing on the topics of "common values", "discourses for all", and "resilient European civic cooperation". Read about their ideas in the vision papers:
Podcasts
Summit, 10 December 2020
As a joint event with the Federal Foreign Office of Germany, the European Council on Foreign Relations and Stiftung Mercator, the Daring New Spaces Summit gave civil society actors, journalists, and academics across Europe a strong voice during the current Trio Presidency of the EU Council.
The keynote by Federal Foreign Minister Heiko Maas
Find more videos of the project's summit here.
About The Project
The project Daring New Spaces: Striving towards a European Public Sphere was initiated by Das Progressive Zentrum in light of Germany's Presidency of the Council of the European Union 2020. It is supported by the German Federal Foreign Office and carried out in cooperation with Stiftung Mercator and the European Council on Foreign Relations. Our initiative plans to measure the current state of the European public sphere and to identify current challenges. Building on these results, we aim to develop guiding principles for the European public sphere of the future as well as gathering existing successful practices.
---
Next to the project´s Sounding Board, nineteen project fellows are actively engaged in three working groups. Learn more about them:
News
Meeting with Heiko Maas: On Friday, November 13, the project facilitators and project fellows met virtually with the German Federal Foreign Minister Heiko Maas to discuss ideas on how to foster dialogue among EU citizens and their political representation.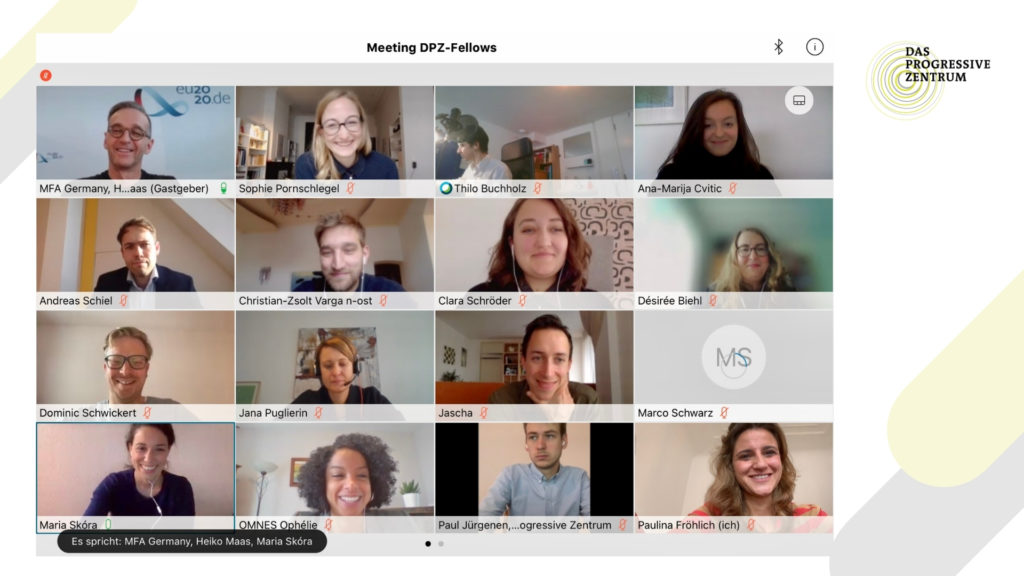 ---
Interview with Maria Skóra: For internAA, the internal magazine of the Federal Ministry of Foreign Affairs, project co-lead Maria Skóra outlined the project Daring New Spaces and talked about her vision of a strong and lively European public. You can find the interview here (in German).
A Project by
In cooperation with
Media Partners