Summary
What should the democracy of the future look like? Which institutional changes are required to cope with the challenges of a globalised and digital world? And how can we include people more effectively in political decision-making processes? The Democracy Lab brought together stakeholders from civil society, academia and politics in order to find answers to these questions. In our Progress Report, we present our ideas, projects and results of the first project phase.
With its innovative formats, international conferences and publications on democratic transformation, the Democracy Lab has become a hub for innovators in the political sphere in Germany and Europe. The Progress Report 2017/2018 shows the highlights of our work.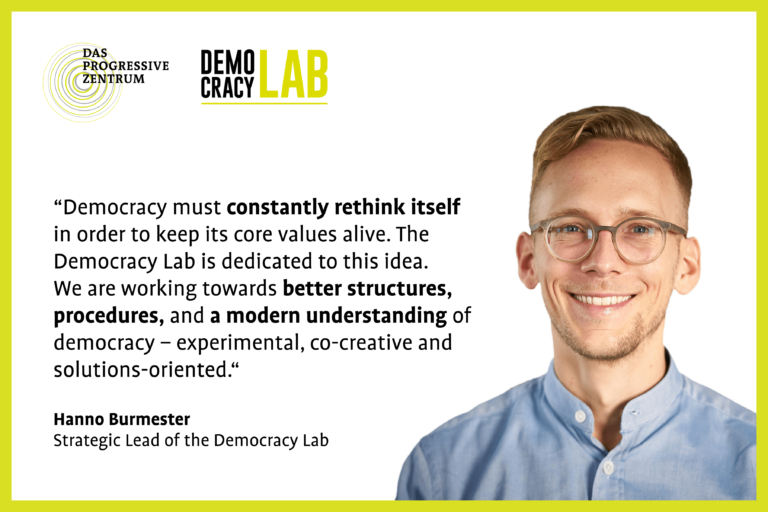 Das Democracy Lab
The Democracy Lab
Das Progressive Zentrum's Democracy Lab opened in April 2017 as a platform to bring thinkers and doers together to discuss democratic innovations. Its main objective is to develop positions, ideas and methods to improve and reform democratic structures and processes, but also to think beyond the current intellectual models we apply when thinking about our political system. It offers a space for creative, interdisciplinary and international exchange. As a collaborative platform, we translate ideas coming from civil society into practical recommendations for decision-makers.
Our sponsors
We would like to thank the Federal Ministry for Family Affairs, Senior Citizens, Women and Youth and the programme "Demokratie leben!" for their support for the project "Democracy 2025 – Democratic innovations for a changing society".

Authors

We develop and debate progressive ideas and bring together leading actors who turn thoughts into action. Our think tank's goal: making the just transformation a reality. ▸ Learn more