Olaf Scholz announced a fundamental shift in German foreign policy following the Russian invasion of Ukraine. Find out what this means and what needs to follow in our April newsletter.
---
You would like to in future receive our newsletter, invitations and publication notifications automatically? Sign up here ❯
---
Editorial
by Dominic Schwickert
Last December, the new German government presented its coalition agreement under the slogan "Dare more progress". Less than three months later, war broke out in the middle of Europe. Putin's army turned Ukraine into a site of incredible suffering and shocked the world with egregious war crimes. In times like these, the idea of progress might seem like wishful thinking. And yet the war has instilled Chancellor Scholz's plans for transformation with a new sense of urgency. The transition toward renewable energy has been recognized as a matter of national security. Gaining independence from Russian gas, coal and oil is now at the top of the agenda in the fight against Putin's war of aggression.
In his extraordinary address to the German parliament right after the Russian invasion of Ukraine, Olaf Scholz announced a fundamental shift in his foreign and security policies. Yet this should be understood as only the beginning of a comprehensive realignment of German politics. Moving forward, the main challenge will be to shape a more autonomous and equitable Germany in a sovereign European Union that is capable of standing up for democratic values within and beyond its borders. Viktor Orbán's recent re-election shows that there is still a long way to go towards a more unified EU.
For the Ukrainians, who are defending not only their sovereignty but also Europe's freedom, every day counts. The new German administration needs to prove its leadership strength by striking a balance between timely action and careful deliberation. Pace and preciseness must now be the measures for progressive politics. Together, let's stand with Ukraine!
Author
Our newsletters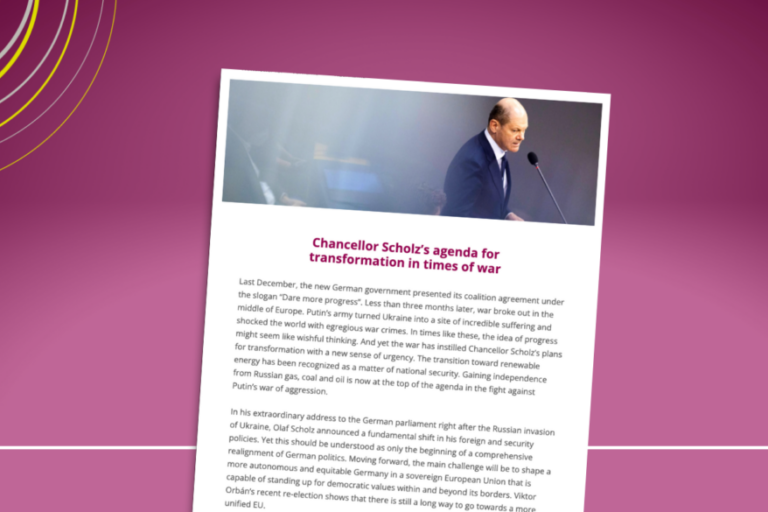 The April newsletter from Das Progressive Zentrum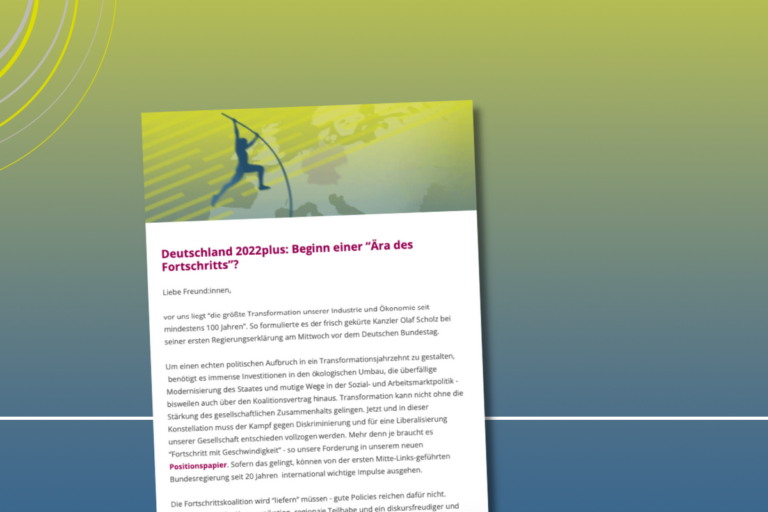 The December newsletter from Das Progressive Zentrum
News from Das Progressive Zentrum