German Chancellor Olaf Scholz spoke with unusual clarity at this year's Progressive Governance Summit, describing the Russian invasion of Ukraine as a "crusade." Russian President Vladimir Putin is waging war against an entire way of life, he said. Read on for the manuscript and video of the speech.
Chancellor Scholz has announced that he will continue to supply heavy weapons to Ukraine "as long as it takes." Germany, "together with all our friends and partners, categorically supports Ukraine – financially, economically, in terms of humanitarian assistance, and also with weapons, including heavy artillery, modern air defence systems and flak tanks" Scholz said at the Progressive Governance Summit in Berlin on Thursday. "We will continue our support for as long as it takes – for as long as that support is needed to fend off Russia's abhorrent aggression," Scholz said at the international conference.
The chancellor condemned Russia's policies in no uncertain terms. He accused Russian President Vladimir Putin and his supporters of not only waging a war against Ukraine. "They consider their war against Ukraine to be part of a larger crusade: a crusade against liberal democracy, (…) against the rules-based international order, (…) against freedom and progress, (…) against our way of life, and a crusade against what Putin calls the 'collective West.' He means all of us." The main burden of the war is borne primarily by the brave men and women of Ukraine, Scholz said. "They are the people who are being killed and maimed, raped and deported."
Liberal democracies, he said, have for years been at the mercy of severe attacks, internal and external. But those attacks have reached a new level with Russia's invasion of Ukraine, he said. "And that also describes the task we set ourselves: to move our country forward – as
a free, open and future-oriented society. With life chances, equal rights and opportunities for all." Only together, he said, is it possible to respond to authoritarianism, which always aims to divide. Together, he said, one can fight lies and liars. "Only together. This is key. This is what matters now," Scholz stressed. "If we agree on this one fundamental understanding, we may disagree on details and tactics."
Numerous media outlets have picked up Scholz's remarks, including: CNN, Deutsche Welle, Handelsblatt, MDR, n-tv, Reuters, SKY News, Stern, Süddeutsche Zeitung, SWR, The Guardian, The Independent, T-Online, US News Washington Post, ZEIT Online.
Following the video message, the head of the Federal Chancellor's Office, Wolfgang Schmidt, discussed the issue with Pulitzer Prize winner Anne Applebaum and Guardian Editor-in-Chief Katharine Viner. Schmidt explained the concept of the "Zeitenwende", or turning-point. This, he said, "gives even those who previously had other feelings about Russia the opportunity to rethink and understand: Okay, this is really an enemy now." Asked about tank deliveries to Ukraine, Schmidt said these were not a "magic wand" to end the war immediately.
Listen to the Summit Talk here or on Deezer, Spotify or Apple Podcasts.
The conversation sparked a public debate about German behavior in the conflict. The Guardian examined Schmidt's statement that Germany was still in its "teenage years" with regard to international defense policy. Deutschlandfunk reported that the chancellor's office chief had been "remarkably open about German security policy." The Tagesspiegel underscored the "unusually detailed insights into thinking in the Chancellor's Office." In BILD and WELT, opposition politicians criticized the chancellery minister for his choice of words.
How can Germany live up to its security policy responsibilities in the new era? This question was at the center of the discussion. Anne Applebaum and Wolfgang Schmidt agreed that a fundamental rethink of security and economic policy is needed.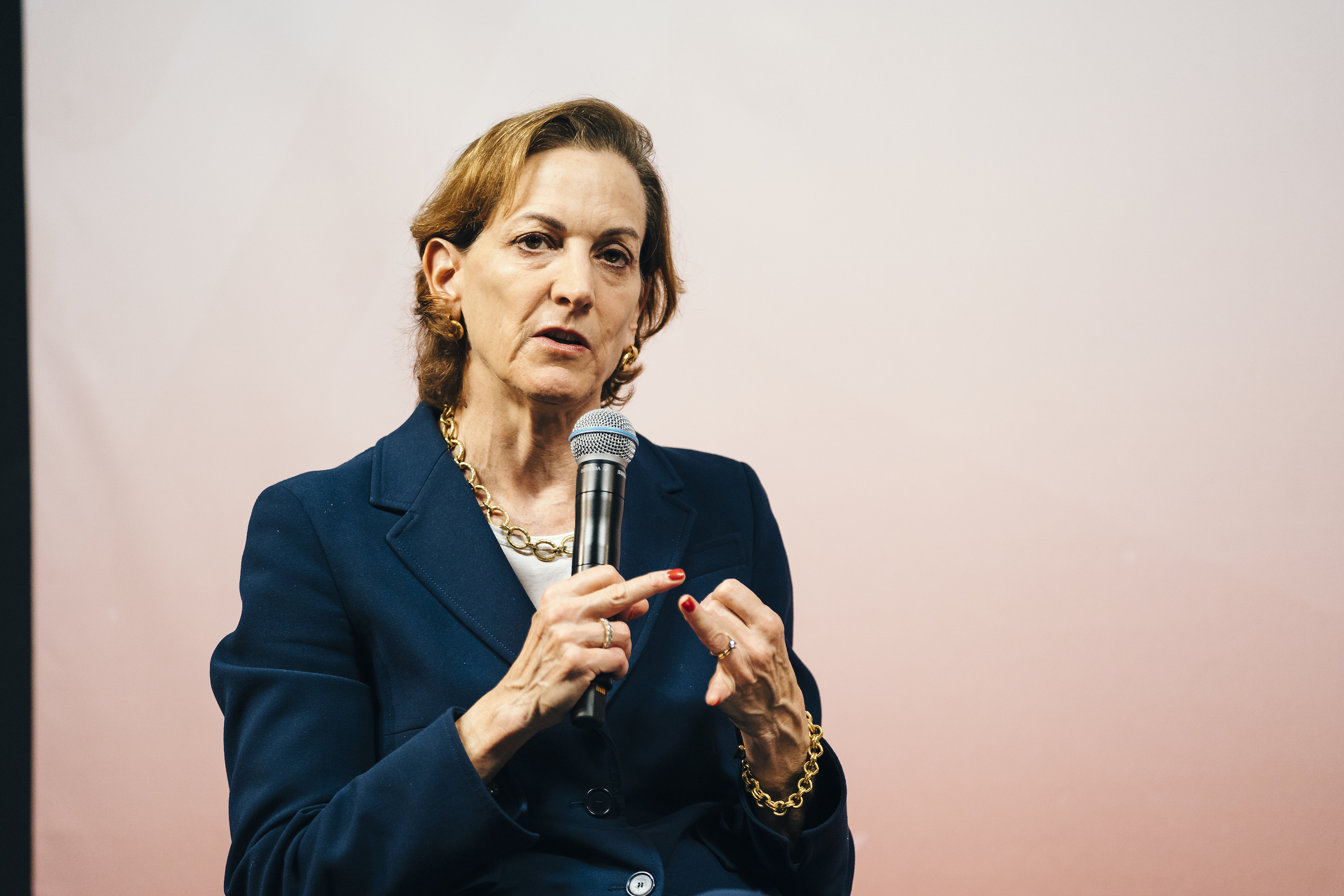 The Progressive Governance Summit (PGS) is Europe's largest conference for progressive politics. Each year, a network of progressive leaders comes together to share political programs, positions, and strategies. The PGS network includes activists, policymakers from the local. level to heads of state, and is supported by 25 leading political foundations and think tanks.